Winter Rogue Trotting
Ah, here we go again. Winter in the Northeast is nothing to take lightly, so here are our tips to survive and thrive in winter.
Accountabilibuddies: Find some friends who are equally dedicated to outdoor running in the freezing cold, rain, sleet, wind, snow, and ice. It's infinitely easier, and safer, if you have winter run buddies.There's no greater motivator than friends waiting out in the cold and dark for you! Once you're out there, the potential to take an unexpected tumble can be much higher, and if you have company, there's someone to ensure that you get to safety. If you don't have someone willing to brave the outdoors with you, take a phone, and carry ID. Sounds dramatic, but it's only dramatic if you need it and don't have it.
Layer up: The layer closest to your skin should be something other than cotton, which tends to get sweaty and cling to your body. Not only is this really uncomfortable, it can be unsafe once the temperatures plummet below freezing. There are an incredible number of moisture wicking, warmth trapping fibers out there these days, from wool to synthetics. Since you have a dedicated bunch of winter running friends, ask them for advice about what to wear, and how they decide what goes on, in all sorts of weather. I favor Smartwool socks year-round, but they really shine in winter, where their warmth and moisture management are clutch.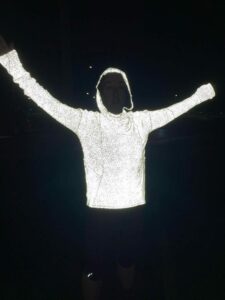 Get reflective: It's dark earlier, and as snow and ice accumulate on the roads, the runnable space gets narrower, meaning you better make sure that cars can see you. Don't wear dark colors unless you're also wearing something high viz over it. Run against traffic – I feel like I shouldn't even need to say that, but the number of runners I see running with their backs to traffic is scary. Don't do it.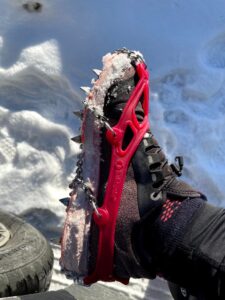 Get traction: Here's where your running friends can again be a great resource to you. There are a number of options for your feet, from literal screws to high tech shoes that come with spikes built in. Depending on the area of the northeast you're in, you may get more ice than snow, and what you use for traction should correspond to your prevailing conditions. It also is dependent on the terrain you run on, snow packed trails versus icy sidewalks/roads demand different traction solutions. Nanospikes are a favorite of mine for icy roads and sidewalks, but there are lots of options out there!
Hydrate: I know, it's cold, and you don't feel thirsty. Your body is assuredly losing moisture, via your respiration, and yes, sweat, even though it's less sweat than you may experience in the warmer months. Electrolytes are just as important in the winter as the summer, since you really want to avoid cramping in the middle of your run and being forced to walk any distance in the cold if you cramp severely (possibly speaking from personal experience on this one).
Finally, put something protective on your exposed skin. I typically use a beeswax salve on my cheeks and lips in the winter when the wind is icy and whipping over the water. Windburn is no fun.
Hopefully we haven't made you decide to stay in this winter, it's great fun to run outside all year long, you just need the right stuff!