My Favorite Running is Trail Running; Trails in the Greater Portland Area
There's no better running than trail running, in my opinion. The terrain is varied, trails are almost never crowded, and in the summer months, it's way cooler than baking on the pavement. Of course, it's often rocky, rooty, muddy, or poorly marked, but that's half the fun! You have to be present and attentive and fully engaged to run trails without falling (too often). I never wear headphones or listen to music or podcasts while I'm trail running. It's unnecessary, as the ever changing landscape is a wonderful distraction, and besides, paying attention to the footing is of paramount importance (did I mention the roots and rocks?).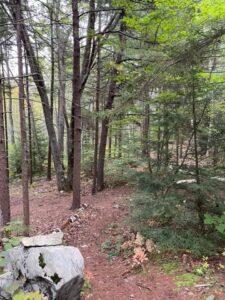 Even though you should forgo headphones, you should carry your phone with you. It's comforting to know that you can call for assistance in a pinch, or use the maps feature to navigate back to a familiar landmark. It's also a good idea to be at least passingly familiar with local hunting ordinances. Hunting isn't limited to the fall, although that is the season most of us associate it with. Trail heads will usually have signage regarding whether the area is open to hunting, and wearing a bright color is a generally good plan. Weather, start time, and your fitness level will dictate whether you carry hydration, snacks, a light source, or additional layers. If you are running in an area well away from civilization, or have health issues, be more cautious and considerate about how you outfit yourself. Trail running is hugely rewarding and fun, but it should also be respected.
Ready to run trails!? There are a huge number of really fun trails in the greater Portland area, and they are managed by an equal number of helpful land trusts and towns. I highly recommend checking out the websites and trail maps available from Portland Trails, Falmouth Land Trust, Presumpscot Regional Land Trust, just for starters. I've listed a few of my regular and favorite trails below, along with a few informational tidbits.
Easily Navigated (I'd go to these trails alone and as a first time trail runner, they are also great in winter, or in the dark):
The Eastern Trail – not technical, straight and flat, very difficult to get lost

Back Cove Trail – not technical, 3.5 mile loop, very difficult to get lost

Cherry Hill – not technical, basically a wide dirt road, very contained area, difficult to get lost
Other trails:
Gull Crest Trails in Cape Elizabeth – not too technical, but not well mapped, maybe explore these in small chunks if you're new to trail running

Evergreen Cemetery in Portland – moderately technical footing, somewhat confusing maps, but centrally located, not a large area, and easy to navigate out of

North Falmouth Community Forest – technical, but well mapped/marked (I'd go here alone not knowing the trails, but maybe not as a novice trail runner)

Hadlock Community Forest – see North Falmouth Community Forest

Robinson Woods in Cape Elizabeth – technical, somewhat confusing maps & markings

Blackstrap Hill Preserve in Falmouth – see Robinson Woods
Taking the first steps out onto an unfamiliar trail can be intimidating, but oh so worth it!
Resources:
Runaways Run Club group trail runs

All Trails trail guides and maps

Trail Sisters women only group trail runs