Make the most of winter: Trails to explore in Southern Maine
I might be a life-long resident of New England, but I've always greeted winter with begrudging acceptance. It wasn't until the past few years that I began to see the wintry landscapes as more than an annoyance to get through until spring and summer. Winter is now my favorite time of the year to train and I've become a believer in winter trail running. With some warm clothes and proper gear, I find myself looking forward to every fresh snowfall.
With just a few more weeks of winter, here are some of our favorite southern Maine trails for cold weather running:
Bradbury Mountain State Park, Pownal
While these trails are a favorite of mountain bikers and hikers, they also offer some of the smoothest winter trail running in southern Maine, thanks to daily trail grooming. If you're looking for a long run destination, the miles will fly by on this easy-going terrain. If you want to explore more of Freeport's trails, head over to Hedgehog Mountain for some quick elevation.
Pineland Farms, New Gloucester
Good for both cross-country skiing, snowshoeing and running, it would be easy to rack up your long run miles on these picturesque trails. After your outdoor activity of choice, stop by the farm store for some post-run breakfast and warm up with a coffee.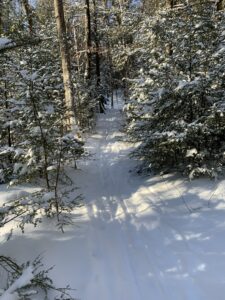 Robinson Woods/Gull Crest, Cape Elizabeth
Cape Elizabeth is known for its coastline views, Portland Head Light and its sprawling farms. It's also a popular trail running destination – allowing runners to connect from scenic landmark to scenic landmark with no shortage of runnable trail and coastal views. Robinson Woods offers unique technical terrain, while Gull Crest features wide, runnable fields – perfect for a family snowshoe or cross country ski.
Knights Pond Preserve, Cumberland
Knight's Pond is a "gem" of a trail system, with a mix of technical and runnable trails. The trail system is well marked and the maps are easy to follow, making it a good destination for newer trail users. More seasoned trail users can easily connect to nearby trail systems and make a longer outing if desired. The parking lot is spacious, the locals are friendly, and the pond is hours of fun for kids to splash around and catch small fish and frogs in warmer weather.
Stroudwater Trail, Portland
Stroudwater Trail is tucked along the Stroudwater River and goes from Congress Street to Spring Street, under the highway, by UNUM, and ecoMaine, but for all that, is an oasis in the city. The trail is 6.2 miles in length if you go roundtrip from Congress to Spring, and is easily made into a 5k for those not quite ready for the 10k trail experience. The halfway point (more or less) is the Blueberry Road parking area, and from there to Spring Street is technical and winding, while the section from Blueberry Road to Congress is far more accessible, wide, and easily traversed. You get the best of both worlds on this out and back trail.